[center]Microcat Ford Europe 2019.2.0.1 Multilingual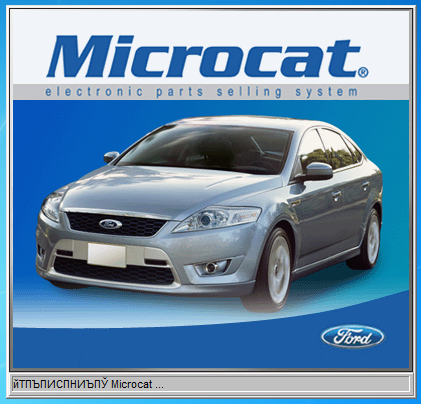 Microcat Ford Europe 2019.2.0.1 Multilingual l Size File: 3.57 GB
[/center]
Electronic parts catalog for Ford European assembly. Contains information on passenger cars and light commercial vehicles Operating system:
Windows XP x32 / Windows Vista x32 / Windows 7 x32
Add. Information: incompatible with x64 OS
We are grateful for the material provided to Comrade UncleVova.
Installation and treatment
1. Mount the ISO image and install the program.
2. After installation, you can update the program as desired.
(To do this, run the file microcatforford (europe) midmonth (wdmo) .exe from the folder Update.)
3. Replace the file MICROCAT.exe and MG16.DLL from the Path folder in the program folder.
4. Run the program.
Year / Release Date: 2019.02
Version: 2019.2.0.1
Developer: Infomedia Ltd.
Interface language: Multilingual (Russian is present)
Tabletka: present
What News?
Added a modified file MG16.DLL and MICROCAT.exe.
Removed key emulator at the request of the copyright holder!
[center]DOWNLOAD LINKS :[/center]
Код:

https://rapidgator.net/file/34f40c2c8f4e32b6a50d6f682ac07f19/Microcat_Ford_Europe_2019_02.part1.rar.html
https://rapidgator.net/file/3d305355dd1cb6fac2ccb912016f6c82/Microcat_Ford_Europe_2019_02.part2.rar.html
https://rapidgator.net/file/9a21f97cfeba7b376405d86fbcb2b60f/Microcat_Ford_Europe_2019_02.part3.rar.html
https://rapidgator.net/file/0f98f0e060d090b335ed6cc430de5243/Microcat_Ford_Europe_2019_02.part4.rar.html

http://nitroflare.com/view/CE6369A719E3184/Microcat_Ford_Europe_2019_02.part1.rar
http://nitroflare.com/view/1AE7BAD041D9F30/Microcat_Ford_Europe_2019_02.part2.rar
http://nitroflare.com/view/3116C42ACF1398D/Microcat_Ford_Europe_2019_02.part3.rar
http://nitroflare.com/view/11AAC2B8182858B/Microcat_Ford_Europe_2019_02.part4.rar

https://turbo.to/4rp6eyfpio1d/Microcat_Ford_Europe_2019_02.part1.rar.html
https://turbo.to/4nb61tboj7s5/Microcat_Ford_Europe_2019_02.part2.rar.html
https://turbo.to/s6umh6gn5evi/Microcat_Ford_Europe_2019_02.part3.rar.html
https://turbo.to/irgxolk8d2sl/Microcat_Ford_Europe_2019_02.part4.rar.html

http://uploaded.net/file/nuuypyzq/Microcat_Ford_Europe_2019_02.part1.rar
http://uploaded.net/file/wbpyna5j/Microcat_Ford_Europe_2019_02.part2.rar
http://uploaded.net/file/v5vx1vi4/Microcat_Ford_Europe_2019_02.part3.rar
http://uploaded.net/file/yzqjerxi/Microcat_Ford_Europe_2019_02.part4.rar