PTC Creo 7.0.1.0 with HelpCenter
PTC Creo 7.0.1.0 with HelpCenter | 5.4 Gb
Languages *: English, ?????, ???, ????????, Fran�ais, T�rk�e, Deutsch, ?e?tina, ???????,
Polski, Italiano, Magyar, Espa�ol, Sloven??ina, ???, Portugu�s, Traditional ??,
Simplified ??, Brazilian Portugu�s, Sloven?ina

PTC has launched the next generation of its Creo 3D computer-aided design (CAD) software, Creo 7.0.1.0. The software's new capabilities put the power of artificial intelligence (AI) at designers' fingertips, making simulation a seamless part of daily work.

Transfer User-Defined Attributes When Importing Creo Elements/Direct Models
You can transfer user-defined attributes (UDAs) when loading a Creo Elements/Direct Modeling model into Creo Parametric.
You can transfer User-Defined Attribute (UDA) information when you load a 3D model created in Creo Elements/Direct Modeling into Creo Parametric. This preserves additional design intent in the form of UDAs that might be attached to models by add-on modules, third-party applications, or customizations.
Faster Loading of Creo Elements/Direct Models
Importing Creo Elements/Direct Modeling models is faster.
A new import profile option is available when you import Creo Elements/Direct Modeling models into Creo Parametric. Clear the option Include Calculated Native Mass Property Values to skip the internal mass properties calculations and their transfer during the import. As a result, the import process can be faster, especially for models containing freeform surfaces. By default, mass properties are calculated and transferred during the import as Creo Parametric parameter values.
Support Option to Include CGR Display Data in Exported CATIA (CATPart) from Creo
You can now include CGR display data for CATPart files exported from Creo through the CATIA Export Profile.
In prior releases, CATPart files exported from Creo Parametric included only BREP geometry, which resulted in models not being displayed in CATIA while in Visualization mode. With the new export profile option, you can now include CGR display data in the exported CATPart files. This allows you to view the CATPart in Visualization mode when the CATIA cache is enabled. A new model preferences option Export part as, is included in the Catia V5 Export Profile Settings dialog box, allowing you to choose the desired export option. This applies to both directly exported .CATPart files, and .CATPart files exported as components of an exported .CATProduct assembly.
Option to Control Snapping of Leader Annotation for Normal and Tangent Placement
Control the snapping behavior for normal and tangent placement of leader annotations.
When you place a leader annotation on an edge, the normal or tangent leaders appear as soon as the cursor position is beyond the snapping angle threshold. You may turn off this snapping in order to place a leader annotation very close to a normal or a tangent placement without the snapping.
You can now control the snapping behavior and also decide on the snapping sensitivity using a configuration option annotation_snap_to_guide_range.
Configuration Option to Control the Display State of Layers in Drawings
Configuration option to control the display state of layers when switching Layer Tree display from detailed drawing to individual view mode.
You can control the display state of drawing layers when switching from the top model drawing to individual view mode. This helps to copy the drawing layer visibility status to individual view and saves you a lot of time, especially when you only need to make a few changes.
In this example, the value of the configuration option def_shown_layers_in_view is set to all to display all layers. The following image displays the layer states for the detailed drawing.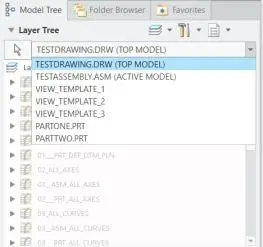 You can set the value of the def_shown_layers_in_view option to one of the following to get the desired behavior and save time on setting layer visibility:
- all*-All the layers are displayed.
- drawing-The layer's state is copied from the drawing.
- none-All the layers are hidden.
Detail Option to Control Display of Lead Zeros When Showing Angular Dimension in Degree Format
It may be required to show the angular dimensions with leading zeros in order to be compliant with the detailing standards. This new option allows you to meet this requirement.
You can determine if the leading zeros are kept when showing angular dimension in degree format. This supports the ASME Y14.5 standard. The following new detail option is added:
ang_unit_lead_zeros
- yes*-Leading zeros are kept.
- no-Leading zeros are removed.
Configuration Option to Control the Display of Set Datum Planes along with Datum Plane Display Toggle in Model Environment
The new configuration option allows you to determine whether the datum plane display toggle will also control display of set datum planes in the model environment.
The new config.pro option will define the behavior of the datum plane display toggle in the graphics toolbar.
Complex models may have multiple number of shown set datum planes that can lead to a cluttered view. Use this option to reduce the clutter.
GD&T Advisor Syntax Checker Support for Recent Detailing Standards
GD&T Advisor syntax checker now supports the recent versions of the ASME Y14.5:2018 and ISO 1101:2017 for annotation syntax verification.
You can now verify your annotations for syntax errors as per the latest version of the detailing standards, and ensure that your annotations are syntactically correct.
New Support Structures in Creo Additive Manufacturing Plus Extension
Upgrade to Materialise API 4.2.1, which is used in Additive Manufacturing Plus Extension. This will allow you to create additional support types, and provide more parameters to control them.
The following are the Additive manufacturing enhancement are provided with Creo Parametric 7.0.1.0:
- Provides Tree, Cone, and Hybrid support types
- Streamlines workflow to better control supports in localized areas
Point Distribution Control in HSM Finishing Toolpaths
Two parameters are added in HSM Finish and HSM Rest Finish steps:
- MAX_DISCRETIZ_STEP
- SMALL_LINK
The following enhancement relating to Subtractive Manufacturing capabilities are provided with Creo Parametric 7.0.1.0:
- Reduce or eliminate the need for manual polishing operations
- Improve control for defining toolpaths
- Improve finishing and rest finishing operations
Use the following HSM Finish and HSM Rest Finish control parameters:
- MAX_DISCRETIZ_STEP-Specifies the maximum permissible distance between two points in the tool path.
- SMALL_LINK- Defines the connection type between adjacent cuts or cutting layers. The options are as follows:
. DIRECT-Straight line connection between the gap edges on the shortest path without any retracting movements.
. FOLLOW_SURFACE-Connection follows existing geometry on the gap edges without any retracting movements.
. BLEND_SPLINE-Tangential arcs connection between the gap edges.
. STEP-Link type can contain retraction, connection, and vertical approach segments. Connection located in the tool plane between the gap edges.
* The STEP link type is only available when the output format is set to 3-axis machining.
. RETRACT_TO_CLEAR_DISTANCE-Straight line connection between the gap edges with retracting tool to the specified clear distance.
. RETRACT_TO_RETRACT_PLANE-Straight line connection between the gap edges with retracting tool to the retract plane. The option involves segments such as retracting of a tool along the tool axis to retract plane, connection, and approach along the tool axis.
* If the selected link type does not satisfy the safety conditions, next safe link type is used.
ModelCHECK Regenerates Only Top-Level Assembly when Running ModelCHECK Regenerate on Top Level
Subcomponents will no longer be unexpectedly modified by ModelCHECK when checking only the top level of an assembly.
Previously, when ModelCHECK Regenerate was run on the top level of an assembly, the subcomponents could still be modified due to how ModelCHECK regenerated assemblies. The regeneration has been enhanced, so that now only the top-level assembly is regenerated when you check only the top-level assembly.
If you want the previous behavior, you can set the option MC_REGEN_TOP_ASM_ONLY to N in the config_init.mc file in the ModelCHECK configuration. The default value for the option is Y.
Improvements to Multibody Tools
A number of multibody-related capabilities and tools have been enhanced in Creo Parametric 7.0.1.0.
The capabilities that have been enhanced for this release include:
- Using Boolean operations, you can now access and change the Keep bodies option during the Edit-Definition workflow.
- Improved out-of-date detection for external references to geometry in cases where:
. The referenced geometry is no longer present because its container body was consumed.
. The referenced geometry was moved to a different body or quilt.
- Improved body handling when a feature-owned body, for example, a body created by split-body, import or data sharing features, is deleted from the model. For example, Body Copy, Move, and Mirror features now fail due to missing body reference when the feature that creates the reference body of these features is deleted.
- Reference pattern generates improved results according to your expectations when references of multiple bodies are involved in the reference pattern operation.
- Curve feature is enhanced. You can now select a body, in addition to the previously available object types quilt and surface, when checking the Place curve on surface option.
- Improved material reporting:
. The mass properties report uses the parameter PTC_REPORTED_MATERIAL in all places where material is reported. This applies to parts and bodies. In case the part represents a multi-material part, a new configuration option ptc_reported_material_mp_report allows you to control whether the material value is displayed as a comma-separated list of all materials, as a fixed string multi-material, or as an empty string.
. Mass properties of designated bodies can now be included in the designation.
- Multibody Data Exchange improvements - The option Import multiple bodies into one part is available when opening a model using File > Open or defining data exchange profiles under File > Options > Data Exchange > Setup Import and Open Profiles. Associative Topology Bus (ATB) update control capabilities are also available in combination with this option.
Creo Simulation Live Basic Graphs
Probes can now have a graph that displays a measured value that updates with each change to the simulation.
All probes will now have the option to be displayed as a graph. This enables you to get immediate feedback if the design is getting better or worse by watching the graph values. An option called Accumulate Data is selected to enable the graph to appear next to the probe.
ANSYS Solver for Creo Simulation Live is Updated
ANSYS introduced a new solver (2020R1) that has been implemented in Creo 7.0.1.0. The updated solver provides more accurate simulation results with less resources.
The solver for Creo Simulation Live has been updated to the latest ANSYS Solver (2020R1). This solver is more efficient in allocating video memory and provides more GPU power in solving Creo Simulation Live studies. This produces more accurate results with less resources. The new solver handles thin-walled geometry with a better resolution than in previous releases.
Use this solver for the following capabilities:
- Improved memory management - Improved GPU usage resulting in better simulation of thin geometry.
- Inspect Deviation display-Helps you in identifying problem areas.
- Render Facets option - Allows results to appear on the original geometry.
- Minimum voxel size tooltip
- Allows you to hide and show individual components.
Creo helps designers build better products faster by facilitating product innovation, fostering design reuse, and replacing assumptions with facts. Designers can go from the earliest phases of product design to a smart, connected product all within a single environment.
The Creo 7.0 launch follows PTC's recent acquisition of Onshape, developer of the Onshape Software-as-a-Service (SaaS) product development platform, demonstrating the company's deep commitment to providing innovative technology - via multiple delivery models - to drive business value.
Creo 7.0 introduces breakthrough capabilities in generative design, real-time simulation, and additive manufacturing, in addition to numerous productivity enhancements such as multi-body design.
Creo 7.0 - Top Enhancements
This video demos the new Generative Topology Optimization extension, powered by Frustum, which combines topology optimization and simulation algorithms to generate a series of optimized results focused on manufacturing criteria, running seamlessly in Creo Parametric. This was introduced in Creo 7.0.
PTC enables global manufacturers to realize double-digit impact with software solutions that enable them to accelerate product and service innovation, improve operational efficiency, and increase workforce productivity. In combination with an extensive partner network, PTC provides customers flexibility in how its technology can be deployed to drive digital transformation - on premises, in the cloud, or via its pure SaaS platform. At PTC, we don't just imagine a better world, we enable it.
Product: PTC Creo
Version: 7.0.1.0 with Help Center
Supported Architectures: x64
Website Home Page : wwwptc.com
Language: multilanguage *
System Requirements: PC **
Supported Operating Systems: **
Size: 5.4 Gb
Creo applications are supported in many languages at three levels in the order shown.
- Character support
- Localized user interfaces
- Localized documentation
With character support for a language, characters appear accurately on the screen when you type and when you view items such as drawings or 3D notes. Character support for a language does not always mean that the user interface or related documentation is also available in that language.
Character support is available for the following languages, which are listed in order of implementation from English through Slovak.
System Requirements
Operating System: Windows 10 64-bit, Windows Server 2012 R2, Windows 8.1 64-bit, Windows 7 64-bit
Memory: 4GB or higher
Monitor: 1280x1024 (or higher) resolution with 24-bit or greater color
Graphics card: For 3D hardware acceleration, an OpenGL graphics card must be used that has been tested in a PTC-certified configuration.
Pointing device: Microsoft-approved three-button mouse
File systems: NTFS
DOWNLOAD LINKS :
Код:

https://nitroflare.com/view/489DFE0C84AFB23/vqb6n.PTC.Creo.7.0.1.0.HelpCenter.part1.rar
https://nitroflare.com/view/FFF28E519FED528/vqb6n.PTC.Creo.7.0.1.0.HelpCenter.part2.rar
https://nitroflare.com/view/28946EBAA07EB43/vqb6n.PTC.Creo.7.0.1.0.HelpCenter.part3.rar
https://nitroflare.com/view/FB9A7B88B15E801/vqb6n.PTC.Creo.7.0.1.0.HelpCenter.part4.rar
https://nitroflare.com/view/B1236A541C05EFB/vqb6n.PTC.Creo.7.0.1.0.HelpCenter.part5.rar
https://nitroflare.com/view/EB5F009C1CBC763/vqb6n.PTC.Creo.7.0.1.0.HelpCenter.part6.rar
https://nitroflare.com/view/6F6DFAD411150D5/vqb6n.PTC.Creo.7.0.1.0.part01.rar
https://nitroflare.com/view/9C2E28D5147624F/vqb6n.PTC.Creo.7.0.1.0.part02.rar
https://nitroflare.com/view/58228611156F3D4/vqb6n.PTC.Creo.7.0.1.0.part03.rar
https://nitroflare.com/view/3C22CD536433E72/vqb6n.PTC.Creo.7.0.1.0.part04.rar
https://nitroflare.com/view/5A21BE9118D4EA6/vqb6n.PTC.Creo.7.0.1.0.part05.rar
https://nitroflare.com/view/D1906AE889E75B9/vqb6n.PTC.Creo.7.0.1.0.part06.rar
https://nitroflare.com/view/3C05C4A0C151951/vqb6n.PTC.Creo.7.0.1.0.part07.rar
https://nitroflare.com/view/F72B5869E9C2094/vqb6n.PTC.Creo.7.0.1.0.part08.rar
https://nitroflare.com/view/1C0602D4F9D3B3A/vqb6n.PTC.Creo.7.0.1.0.part09.rar
https://nitroflare.com/view/1906C3EE6C54020/vqb6n.PTC.Creo.7.0.1.0.part10.rar
https://nitroflare.com/view/9EB21DA08CC155A/vqb6n.PTC.Creo.7.0.1.0.part11.rar
https://nitroflare.com/view/0C526883DB69344/vqb6n.PTC.Creo.7.0.1.0.part12.rar

https://uploadgig.com/file/download/abfeD03b688e7c08/vqb6n.PTC.Creo.7.0.1.0.HelpCenter.part1.rar
https://uploadgig.com/file/download/32cc7efe34c0d206/vqb6n.PTC.Creo.7.0.1.0.HelpCenter.part2.rar
https://uploadgig.com/file/download/7e109Ff6deab5E51/vqb6n.PTC.Creo.7.0.1.0.HelpCenter.part3.rar
https://uploadgig.com/file/download/ac8d1117F792d34C/vqb6n.PTC.Creo.7.0.1.0.HelpCenter.part4.rar
https://uploadgig.com/file/download/0e4eDb7ecD8a1654/vqb6n.PTC.Creo.7.0.1.0.HelpCenter.part5.rar
https://uploadgig.com/file/download/b1139937683d93B1/vqb6n.PTC.Creo.7.0.1.0.HelpCenter.part6.rar
https://uploadgig.com/file/download/35db23a867000703/vqb6n.PTC.Creo.7.0.1.0.part01.rar
https://uploadgig.com/file/download/5E376cD5b9e51398/vqb6n.PTC.Creo.7.0.1.0.part02.rar
https://uploadgig.com/file/download/A50958b092a36164/vqb6n.PTC.Creo.7.0.1.0.part03.rar
https://uploadgig.com/file/download/6fB9Ad65f0f74EB0/vqb6n.PTC.Creo.7.0.1.0.part04.rar
https://uploadgig.com/file/download/2D478d3d28D831fd/vqb6n.PTC.Creo.7.0.1.0.part05.rar
https://uploadgig.com/file/download/44a4A300363Cb8c4/vqb6n.PTC.Creo.7.0.1.0.part06.rar
https://uploadgig.com/file/download/c1e22f84E0f721Fe/vqb6n.PTC.Creo.7.0.1.0.part07.rar
https://uploadgig.com/file/download/7e7173734594C2ed/vqb6n.PTC.Creo.7.0.1.0.part08.rar
https://uploadgig.com/file/download/7a3196eD28Fcb658/vqb6n.PTC.Creo.7.0.1.0.part09.rar
https://uploadgig.com/file/download/D25CC9cE137467e8/vqb6n.PTC.Creo.7.0.1.0.part10.rar
https://uploadgig.com/file/download/7b23a7f576ea403f/vqb6n.PTC.Creo.7.0.1.0.part11.rar
https://uploadgig.com/file/download/9aa8a101155Dfa73/vqb6n.PTC.Creo.7.0.1.0.part12.rar

https://rapidgator.net/file/bc31289b39b482d62a44e940c1135439/vqb6n.PTC.Creo.7.0.1.0.HelpCenter.part1.rar.html
https://rapidgator.net/file/b3709900b33607359178e78b120a21c2/vqb6n.PTC.Creo.7.0.1.0.HelpCenter.part2.rar.html
https://rapidgator.net/file/f43a1af551889fbc7b62e77a1d1bf7ca/vqb6n.PTC.Creo.7.0.1.0.HelpCenter.part3.rar.html
https://rapidgator.net/file/528a62eb3932f66a864d770a2f6352e0/vqb6n.PTC.Creo.7.0.1.0.HelpCenter.part4.rar.html
https://rapidgator.net/file/6748409afa26c21b1bab44fd664d0abc/vqb6n.PTC.Creo.7.0.1.0.HelpCenter.part5.rar.html
https://rapidgator.net/file/937d4bdc18b84dd1a9a33b2a6c736267/vqb6n.PTC.Creo.7.0.1.0.HelpCenter.part6.rar.html
https://rapidgator.net/file/fbdb04b90ce7581245d0ee7ba5d6fc8b/vqb6n.PTC.Creo.7.0.1.0.part01.rar.html
https://rapidgator.net/file/4f78a4f3577baef88d5abef89ff0d47f/vqb6n.PTC.Creo.7.0.1.0.part02.rar.html
https://rapidgator.net/file/c432ba6c66041b0ade5c35938bfbba9d/vqb6n.PTC.Creo.7.0.1.0.part03.rar.html
https://rapidgator.net/file/e5340518671efc696d443f9ac6daf1d1/vqb6n.PTC.Creo.7.0.1.0.part04.rar.html
https://rapidgator.net/file/6e975a9da6f6861e186f9b6173ef281e/vqb6n.PTC.Creo.7.0.1.0.part05.rar.html
https://rapidgator.net/file/b3c5cefa36f5d7f2660808ea59dbe73c/vqb6n.PTC.Creo.7.0.1.0.part06.rar.html
https://rapidgator.net/file/95e95e2b8d02986554e77b633f2317b5/vqb6n.PTC.Creo.7.0.1.0.part07.rar.html
https://rapidgator.net/file/0c84e1742a2b81a9daaecaebf333868e/vqb6n.PTC.Creo.7.0.1.0.part08.rar.html
https://rapidgator.net/file/7091a782b785c4b2134a519d5494d983/vqb6n.PTC.Creo.7.0.1.0.part09.rar.html
https://rapidgator.net/file/4270002e02855747496477d2af60c586/vqb6n.PTC.Creo.7.0.1.0.part10.rar.html
https://rapidgator.net/file/48c8b85e6cd07bd2a2a095cd7c2e8e2a/vqb6n.PTC.Creo.7.0.1.0.part11.rar.html
https://rapidgator.net/file/e9235ccf603fece0195299787bdbe34c/vqb6n.PTC.Creo.7.0.1.0.part12.rar.html