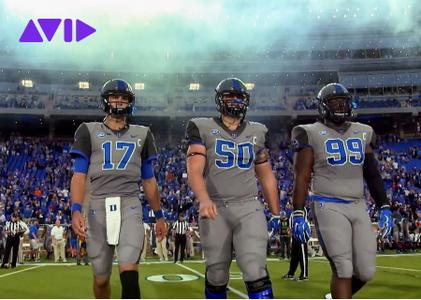 Avid Media Composer 2020.12 | 2.6 Gb
Avid announced a major new release of its flagship Avid Media Composer 2020.12 video editing software. This update includes more enhancements to the user interface, support for H.265/HEVC media, docking tools to floating bins and panels, Avid Titler + updates, selecting color spaces and AAC audio for export, some fantastic new improvements to the Audio Mixer and so much more.
Media Composer 2020.12 Release Notes - Date: 21 Dec 2020
The following are new for Media Composer 2020.12
- Transcode of Alpha Mattes
- H.265 Support
- Export Media Difference Between Sequences
- Avid Titler+ Updates
- Dragging Bin Content to an Open Bin in Bin Container Sidebar
- Mapping Bin Fast Menu Commands to Buttons
- Floating Panel Windows
- Updated Interface Settings
- Bin Brightness Updates
- Finding a User Profile
- Additional Languages for PhraseFind and ScriptSync
- Custom Color Space for Exported MOV, MP4, and OpenEXR
- AAC Audio Format for Exported MOV and MP4
- Audio Mixer Update
- Additional ACES Support
PDF Version of Documentation
Download a PDF of this content, Media Composer 2020.12 Release Notes Documentation: Media_Composer_2020.12_Documentation.rar[/url]
The following has been fixed.
Bug Number: MCCET-3834. After upgrading to Media Composer v2019.12.2, you might have received a "Fatal error" message when opening a sequence containing image (without alpha) clips.
Bug Number: MCCET-3860. In some instances, when in a Production Management environment, the application unexpectedly deleted the original files of linked clips.
Bug Number: MCCET-3869. You could not link or import DNxHD MXF OP-1A from an AJA Ki-Pro Ultra.
Bug Number: MCCET-3892. Media Composer Floating License consumed 2 seats during activation.
Bug Number: MCCET-3870. Line trail marks might have appeared in AniMatte effects when Windows Display Setting Scaling was set to 200%.
Bug Number: MCCET-3906. Clip gain was being ignored when rendering Audiosuite effects.
Bug Number: MCCET-3561. (Windows 10) Microsoft YaHei and JjengHei fonts did not appear in Subcap.
Bug Number: MCCET-3863. You might have received an "Assertion failed" error when opening a project or bin.
Bug Number: MCCET-3829. The Production Management Folder Setting did not follow the Site Settings.
Bug Number: MCCET-3724. Site settings for General, and Media Creation were not always working for New projects.
Bug Number: MCCET-2885. Imported TIFF with alpha had softer edges compared to .mov with alpha.
Bug Number: MCCET-3748. The title bar did not change in contrast when you switched to a light interface setting.
Bug Number: MCCET-3818. In some instances, a User folder was being placed in a project when accessing a bin from a different project.
Bug Number: MCCET-3888. You might have received an "Unable to proceed" error when exporting as MP4 or MOV.
Bug Number: MCCET-3184. Media from the Arri Alexa Mini were displayed upside down and flipped in Media Composer.
Bug Number: MCCET-3665. You could save the bin even when it had a yellow bin lock.
Bug Number: MCCET-3716. A keyboard shortcut for audio punch-in and record did not always start recording.
Bug Number: MCCET-3822. In some instances, even when Dynamic Relink was set to Highest Quality, video clips were relinked to the proxy resolution.
Bug Number: MCCET-3605. (macOS) Event logs might have mislabeled a "DSM path not found" error as a critical error.
Bug Number: MCCET-3825. Deleting a custom-saved Title Style from the settings resulted in a crash to a Breakpad window.
Bug Number: MCCET-3742. Markers did not display in an EDL if placed on a group clip.
Bug Number: MCCET-3551. Performing an XDCAM proxy import or batch reimport might have resulted in a crash to a Breakpad window.
Bug Number: MCCET-3762. You continued to receive the warning, even after selecting the "Don't warn again" message, when loading IMX50 SD clips with restrictions.
Bug Number: MCCET-3792. If the primary Transfer Engine was down, the Send to Playback list would not appear.
Bug Number: MCCET-3670. You could not successfully Dynamic Relink to XDCAM HD 50 and MPEG 50 SD (IMX50) at the same time. The Dynamic Relink options would not allow you to relink XDCAM HD 50 and MPEG SD 50 at the same time, with the proxy offline.To fix this, an additional option has been added to the Dynamic Relink dialog.
Bug Number: MCCET-3871. You could not successfully send a mixed resolution sequence to Send to Playback if Dynamic Relink was set to a specific resolution.
Bug Number: MCCET-3831. The MultiRez button in the Timeline did not display colors properly as in previous releases, making it difficult to distinguish the status.
Bug Number: MCCET-3750. (Japanese locale) In some instances, you could not open your Project by double-clicking the .avp file
Bug Number: MCCET-3868. In some instances, you might have received an "Exception" error when accessing the Dynamic Relink settings dialog. This happened if the Dynamic Relink Override Target Video menu did not populate correctly.
Bug Number: MCCET-3830. Using the MultiRez Button in the Timeline did not change the Timeline segment colors for working/target mismatches.
Bug Number: MCDEV-8972. (HiRes Dual Monitor) Bins did not reopen in the same location after closing and reopening
Bug Number: MCCET-3788. You might receive a "clip name is a clip in a multi-essence file that cannot be exported using the specified Embedded in AAF setting" when exporting embedded AAFs with OP1a audio clips.Workaround: Consolidate the OP1a clips to Avid OP-Atom prior to performing the export.
Bug Number: APPSVCS-723. The Collab App in MediaCentral CloudUX window does not currently work with Media Composer.
Bug Number: MCDEV-13604. You might have issues playing clips containing Media Composer effects in the Baselight User Interface if the Fast Image Access option is enabled in the Baselight plug-in
Bug Number: MCDEV-12926. (macOS) If you have upgraded to macOS 10.15.4, there is a known issue with local attached RAID storage. The system will hang when running Media Composer or copying large files. This does not happen with earlier versions of the OS. You can read details about this issue in this blog. This limitation no longer exists with macOS 10.15.5.
Bug Number: MCDEV-12964. For a faster performance of export audio/video sequences to .mov in 2020.4, please render the sequence prior to export, or disable the GPU fx (in the Render Settings - Current menu)
Bug Number: MCDEV-12735. Maestro graphics do not appear correctly in the Timeline if your system uses the Radeon video card.
Bug Number: DEFI-1808. (Media Composer | Distributed Processing) Two clips or sequences will always be created when performing a consolidate or transcode with Media Composer | Distributed Processing.
Bug Number: MCDEV-11481. Promoting a title from the Title Tool application to Avid Titler+ cannot be performed if it includes a motion adapter.
Bug Number: MCCET-11796. Larger than 10 bit DPX files might fail to link correctly.Workaround: Go to File > Settings and click the User tab. In the Link Settings, click the Link Options tab and make sure Alpha Channel is set to Ignore.
Bug Number: MCDEV-11430. Media Tool ignores the "Current project" filtering option and lists media files that are not associated with the current project.
Bug Number: MCDEV-11197. In some instances, the Interleave option might not appear in the Export As dialog box. If you are performing an Export using the Avid Media Processor, the Interleave option should appear when you choose Stereo, 5:1, or 7.1 Audio.Workaround: If it does not appear, briefly toggle back to the Mono setting, then toggle to Stereo Mix once again. Doing so should reveal the Interleave option.
Bug Number: MCDEV-8641. (AMD Graphics). Systems with AMD graphics cards might display tearing when performing Full Screen playback.
Bug Number: MCDEV-9269. (Media Composer | Cloud) After performing a remote download operation on a sequence containing AVC-I 100 remote media, the downloaded media appears as XAVC-I 100.Workaround: Download the entire master clips.
Bug Number: (macOS). You may occasionally see the menu bar flash followed by a brief beach ball. To fix this, deactivate "Displays have separate spaces" under System Preferences > Mission Control settings.
Bug Number: MCDEV-9011. Intermittently, when working with the XDCAM Nablet Plug-in, you might see "Failed to get the sample position from the AMA Plug-in" errors if you have waveforms enabled in the Timeline.
Bug Number: COGS-2560. While working in the Script Window, text operations (cut/copy/paste/delete/editing) can only be done in edit mode. See "Editing a Script" in the Help.
Bug Number: MCDEV-5650. When working with Panasonic LongG media, you might receive an "SFPlayConsumer Timeout" error if audio waveforms are enabled.Workaround: Turn off audio waveforms.
Bug Number: MCDEV-5385. MultiCam editing with Panasonic LongG media is not supported with this release.
Avid Technology's Media Composer has matured into a top industry editing application, which can scale up or down depending on the size of production requirements. It was one of the original NLEs and it has industry support like no other. Avid's Media Composer is still a world leading editing system.
Designed to give storytellers at all levels the most powerful solution for more creative freedom and workflow flexibility, Media Composer 2020 includes a redesigned customizable user interface, a new Universal Media Engine, finishing and delivery tools, and support for Apple ProRes for Windows and Catalina, among many other enhancements.
- More customizable user experience -With Media Composer 2020 users can tailor their workspace to exactly how they want to work. Improvements to the paneled UI dramatically increase ease of use and faster editing and mastering. A new Timeline Sequence Map increases efficiency by letting creators navigate their entire sequence without taking up the whole screen, while the Blank Panel unclutters the UI and stops panels from resizing.
- Finish and deliver with precision -Expanding on the editing and finishing capabilities introduced a year ago, Media Composer 2020 enables users to fine-tune color with greater precision and make more granular gain value adjustments when working in ACES (Academy Color Encoding System) spaces. Users can finish high-resolution and HDR projects with total color precision and interoperability, ensuring pristine picture quality throughout their workflow.
- Next Generation Avid Media Engine -Media Composer's powerful Universal Media Engine enables users to accelerate their workflows by reducing the reliance on QuickTime to deliver better media importing, playback, editing and export performance. The media engine increases processing speed of hi-res HDR media and provides native support for a wider range of formats, including direct media access and Open EXR for over-the-top services such as Netflix. Media Composer 2020 enhances a user's ability to easily create content for mobile video platforms and social media by providing 9x16 and 1:1 Mask Margins and FrameFlex framing pre-sets.
- Apple ProRes for Windows and Catalina Support -Like Mac users, Windows users can now create, edit, collaborate, and export ProRes media natively with encoding supported on Windows machines for media creation and exporting to .MOV export, MXF OP1a, and MXF OP-Atom workflows. Media creators also can use Media Composer on Apple's latest macOS Catalina, a 64-bit OS that provides superior performance while leveraging the power of the new Mac Pro.
- Media Composer | Enterprise -Additionally, Media Composer | Enterprise expands its role-based customization capabilities to enable users to deploy or update site settings across an organization and deploy user settings independently to individuals or groups quickly without impacting any existing site settings. With more studios managing remote teams, Media Composer | Enterprise gives users more control over their productions.
What's New in Avid Media Composer 2020.12
Avid delivers the most open and efficient media platform, connecting content creation with collaboration, asset protection, distribution, and consumption. Avid's preeminent customer community uses Avid's comprehensive tools and workflow solutions to create, distribute and monetize the most watched, loved and listened to media in the world-from prestigious and award-winning feature films to popular television shows, news programs and televised sporting events, and celebrated music recordings and live concerts. With the most flexible deployment and pricing options, Avid's industry-leading solutions include Media Composer, Pro Tools, Avid NEXIS, MediaCentral, iNEWS, AirSpeed, Sibelius, Avid VENUE, FastServe, and Maestro.
Product: Avid Media Composer
Version: 2020.12
Supported Architectures: x64
Website Home Page :
Language: english
System Requirements: PC *
Size: 2.6 Gb
System Requirements:
Memory: 16 GB or more recommended; 32 GB or more when working with UHD or high frame rate media; 8 GB minimum.
Media Composer | First requires a 64-bit Windows operating systems
Windows 10 Professional and Enterprise
Windows 8.1 Professional and Enterprise
Windows 7 Professional (Service Pack 1 only)
-:DOWNLOAD FROM LINKS:-
RapidGator
NitroFlare
Dropapk